By Anne Bassett
University of Iowa Strategic Communications
University of Iowa students Claire Castaneda and Amanda Smith have more than just their major—biomedical engineering—in common. This year, the friends both spent their weeklong break in March developing leadership skills and learning about community building.
As participants in the UI Alternative Spring Break program, the two are part of the growing number of students earning academic credit by serving with local communities around the country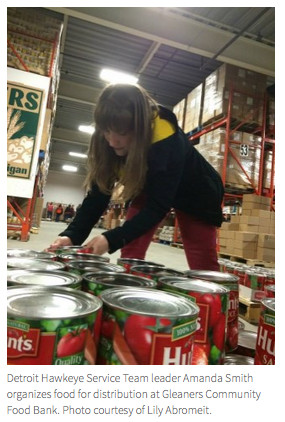 during their time off school.
Smith, a junior from Cedar Rapids, Iowa, was the team leader for the trip to Detroit. Students had the chance to experience everything from distributing food at a food bank and doing improvement projects at a public school to working one-on-one with students at a nonprofit dedicated to helping improve reading and writing skills.
Castaneda, a junior from Dubuque, Iowa, led the trip to St. Louis sponsored by the UI Center for Diversity & Enrichment and TRiO Student Support Services programs in the UI Chief Diversity Office. The team focused on education and worked with a number of area nonprofits dedicated to helping children, as well as completed some much-needed projects for a charter school low on manpower.
Both participated in a trip to St. Louis last year.
"These trips have definitely changed my perspective in one form or another," says Castaneda. "It helps students fall in love with these cities, but the goal is that our takeaways echo back into Iowa City."
"It's really great to meet these inspiring people doing great things in their community," says Smith. "You leave wanting to be that type of person in your own community, which is a powerful experience."
Smith and Castaneda were two of the more than 120 UI students who headed out as part of "Hawkeye Service Teams" on nine trips, which promote service learning, social justice, and community building. Over the last year, the program has grown from four trips and about 50 students. It started in 2013, with one trip to Memphis and 16 students.
The Alternative Spring Break Program is supported and coordinated by the UI Center for Student Involvement and Leadership (CSIL). The UI is one of only a few alternative break programs in the country to also require students to participate in a common academic course for credit as part of the experience.
"The whole experience is about service with, not service to, a community," says Paul Mintner, coordinator for leadership programs in CSIL. "Students are there to learn from a community and its members, and really connect with what they're already doing and help in way they can. We hope the program continues to expand and our students continue to use the experience as a way to strengthen their identities as members of the UI community."
As for Castaneda and Smith, they're not sure yet if they'll be heading out of town with the program next year. But they encourage everyone to participate in a trip at least once.
"You walk away feeling you learned a lot about yourself and it's fostered my love for volunteering," says Castaneda.
"And service," adds Smith, "is a great way to become a member of a community and be able to connect with people anywhere you go in life."