Thursday, October 9, 2014
By Josh O'Leary
Iowa City Press-Citizen
University of Iowa students have revived a nearly century-old homecoming tradition that until this week had been lost to the history books.
Members of the Campus Activities Board and College of Engineering have constructed a 26½ foot monument lined with 1,200 ears of corn on the west side of the Old Capitol — a homecoming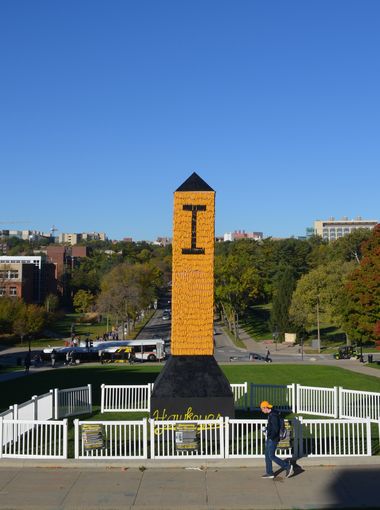 week tradition that had faded away in recent decades.
"Our generation, the last couple years, we had no clue this had happened," said junior Mariah Dawson, director of traditions for the Campus Activities Board. "So I thought it was cool that people would walk up and down campus and see a statue of corn — a monument of corn."
There are conflicting reports of the when the corn monument tradition first began, but it appears to date to the 1910s.
The late local historian Irving Weber once wrote about it in a Press-Citizen column: "The Corn Monument and variations have been a Homecoming tradition since 1914, when a class of hydraulics engineering erected the first. It was made with 3,000 ears of yellow, red and white corn — reportedly a 'corny idea.' "
According to Weber, the monuments became increasingly elaborate over the years, including some years when it became an arch over Washington Street near the Engineering Building. After the homecoming game, students would often set fire to the monument in celebration, though Weber said that was banned for a time.
A 2010 article in University of Iowa Spectator said the tradition waned in 1960s before enjoying an off-and-on revival in the 1980s. Dawson said the last monument was constructed in the early 1990s.
Construction on the new tower — modeled after photos of the 1919 version — began a couple of weeks ago at the IIHR-Hydroscience and Engineering building. On Monday, students built a base on the Pentacrest, then used a crane to pull the structure, which is estimated to weigh about a ton, upright.
The finished product is a wood tower, lined with halved ears of yellow corn with some of the cobs painted black to create an "I" on all four sides.
Junior civil engineering major Michelle Riedinger, who helped lead the effort, said it was a good exercise in project management and problem solving.
"We've been planning since the summer," Riedinger said. "We started off with pictures of what the monument looked like, and as we got closer, we looked at the nitty gritty of the logistics — how are we going to get this tall thing to stand and not fall over?"
The monument will remain in place until Monday, and unlike those early days, there will be no celebratory fire. The students also created a smaller version which will roll through Friday's homecoming parade on the back of a truck.