Student Leadership Institute
Spring 2022 applications closed. Applications will open in March 2023.
The Student Leadership Institute brings together Engineering students who are looking to expand on their knowledge of leadership to steer their experiences and goals while at The University of Iowa, in the College of Engineering. This institute will provide each participant with a unique, and renowned experience to help launch their future as a leader. Students will engage with StrengthsFinder, Personal Leadership philosophies, and much more during this one-day institute.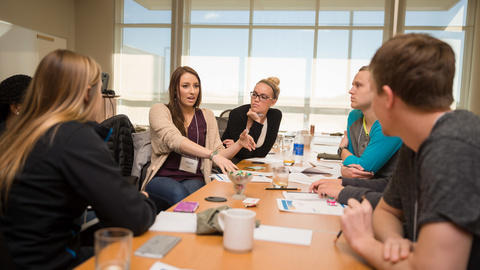 "Every one of us is different, but what makes a good leader is not one personality type, but the recognition of how you can direct your energy and that of your colleagues and employees toward a shared goal."  -Gary Seamans, Engineering alumnus & co-founder of the Student Leadership Institute
The institute format uses both small- and large-group sessions to expose students to real-world challenges, immerse them in hypothetical situations, and introduces them to key leadership concepts.
What do students say they learned?
"The key to motivating others is getting them past their fear of failure," one student remarked. "The best leaders have an exceptional ability to listen to people," added another. And perhaps the best summary to date was this: "I learned that leadership is something more than just leading. It's also encouraging others to reach their full potential."
 
For more information about the Student Leadership Institute, contact Alyssa Burks, Assistant Director of Leadership Development.