DEI Council Charge
Provide leadership within the college to promote and achieve a culture that values diversity, equity, and inclusion, especially racial/ethnic and gender diversity, as evidenced by COE policies and practices;
Lead the college's engagement in the ASEE Diversity Recognition Program and the creation of the college's Diversity, Equity, and Inclusion Action Plans; and
Provide ongoing feedback and recommendations on proposed new and current DEI related functions to promote a cycle of progress for a more effective DEI and anti-racism infrastructure across all areas and units of the college.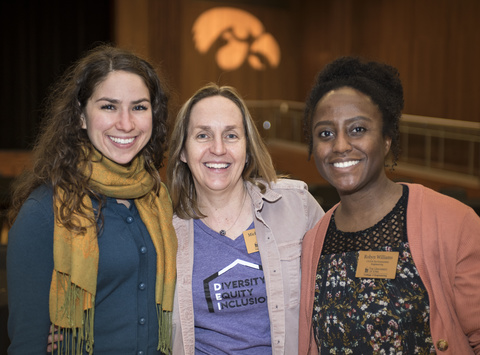 Council Members (2021-2022)
Name / Title
Status
Unit Represented

Sarah Vigmostad
Associate Professor

Faculty
DEI Council Co-Chair

Cathy Koebrick
Director of Human Resources

Staff
DEI Council Co-Chair

Josh Atcher
Director, Academic Resources & Support

Staff
Engineering Student Success Team

Kai Ayala

Undergrad Student  
Engineering Student Council

Jatin Dhamrait

Undergrad Student 
Engineering Student Council

Jennifer Fiegel
Associate Professor

Faculty
Chemical & Biochemical Engineering
(Alternates with Stanier)

Sandy Gerard
Program Coordinator

Staff
IIHR-Hydroscience & Engineering

Nicole Grosland
Associate Dean for Academic Programs

Faculty
Academic Programs & EFC

Bernice Kubicek

Graduate Student
Engineering Grad Student Council

Joshua Lobb
Assistant Director of Graduate Programs

Staff
Graduate Programs & ESAC

Dawn Marshall
Research Manager

Staff
National Advanced Driving Simulator (NADS)

James Maxted
Associate Professor of Practice

Faculty
Electrical & Computer Engineering

Dan McGehee
Associate Professor & Director, NADS

Faculty
Industrial & Systems Engineering

Jerry Schnoor
Professor

Faculty
Civil & Environmental Engineering

Charlie Stanier
Professor

Faculty
Chemical & Biochemical Engineering
(Alternates with Fiegel)

Rachel Vitali
Assistant Professor

Faculty
Mechanical Engineering

Jun Wan
Professor & Assistant Director of ITI

Faculty
Iowa Technology Institute

Kristan Worthington
Assistant Professor

Faculty
Biomedical
The College of Engineering (COE) and the Diversity, Equity, Inclusion (DEI) Council are committed to fostering a welcoming and inclusive environment for COE faculty, staff, and students.
The DEI Council awards professional development grants to students in the College of Engineering (undergraduate or graduate)
This new tuition and fees scholarship is open to all undergraduate students promoting diversity, equity, and inclusion activities in the College of Engineering.