Inclusion Agents are undergraduate student staff members that promote a welcoming and inclusive environment in the College of Engineering. Inclusion Agents work individually and as a team to design and implement diversity, equity, and inclusion (DEI) workshops, events, and programs for undergraduate students that foster a sense of belonging. Inclusion Agents also help coordinate the MESA Tutoring program for 5th-12th graders that are traditionally underrepresented in STEM fields. Do you have an idea for a DEI program or are you interested in collaborating with the Inclusion Agents? Please reach out to Engineering-SDC@uiowa.edu. 
Read more about one of the Inclusion Agent's work during her college career: An agent for inclusion in engineering
Inclusion Agents hold weekly office hours for students to share concerns, talk about resources, build community or just chat!
Meet the 2021-22 Inclusion Agents: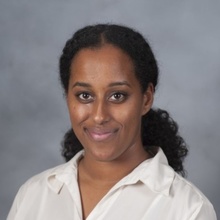 Eritrea Ande 
Senior, Chemical Engineering  
Hometown: Cedar Rapids, Iowa 
About Eritrea: My interest in diversity, equity, and inclusion stems from how diverse representation yields more equitable systems that will foster future innovations! In my free time, I enjoy playing tennis. 
Office hours: Tuesday & Thursday from 9:00am-10:00am online.
Megan Dao
Junior, Biomedical Engineering
Hometown: Ankeny, Iowa
About Megan: I helped organize the Cathy Park Hong Keynote last Spring. Also, I love reading- book recommendations are always welcome!
Office hours: Wednesday 12:30pm - 2:30pm in 3612 SC
David Haro
Sophomore, Mechanical Engineering
Hometown: Waukegan, Illinois
About David: I'm a man of many interests who enjoys almost everything! Some of my favorites include exploration, biking, cooking, jewelry making, technology, gaming, and, of course, design.
Office hours: Tuesday from 1:30pm - 3:30pm and Friday from 1:00pm -2:30pm in 3612 SC
Roy Huang 
Junior, Electrical Engineering 
Hometown: Beijing, China 
About Roy: I think it's important to improve the equity among diversity for our school as well as the society. I'd like to help more students to feel like they belong to the College of Engineering and the campus. 
Office hours: Wednesday from 3:30-4:30pm and Thursday from 3:30-4:30pm in 3612 SC
Rebecca Ricke 
Junior, Computer Science and Engineering 
Hometown: Sioux City, Iowa 
About Rebecca: Besides being an Inclusion Agent, on campus I am also involved in the Society of Women Engineers, Theta Tau Professional Engineering Fraternity, and the Iowa 3D Club. I am also getting a minor in Political Science.
Office hours: TBD
Wimar Widiatmo
Sophomore, Civil Engineering
Hometown: Iowa City, Iowa
About Wimar: I want to make sure people feel welcomed at the University of Iowa, so feel free to talk to me about pretty much anything! I also like jokes, use that information however you want.
Office hours: Thursday from 1:30pm-4:30pm in 3612 SC