Seamans Center Guidelines
Seamans Center for the Engineering Arts and Sciences User's Guide
 

3100 Seamans Center

335-5764

Environmental Health & Safety (EHS)

 

 

335-8501

1414 Seamans Center

335-5773

Facilities Management for the University of Iowa (FM)

 

 

335-5071

Information Technology Services (ITS)

General Information
New Services/Repairs

 

384-0800
335-2945

Emergencies

 

 

911

Public Safety

 

 

335-5022

Parking/Transportation

 

 

335-1475

Access Control Card Reader System (Back to Top)
The Seamans Center is equipped with a card access system to entrances and many Departmental Offices, Laboratories and Conference/Seminar Rooms. See the Seamans Center Access Control Guidelines on the College of Engineering web site for detailed guidelines.
Alcoholic beverages are not permitted in the Seamans Center at any time.
Classrooms (General Assignment) & Equipment (Back to Top)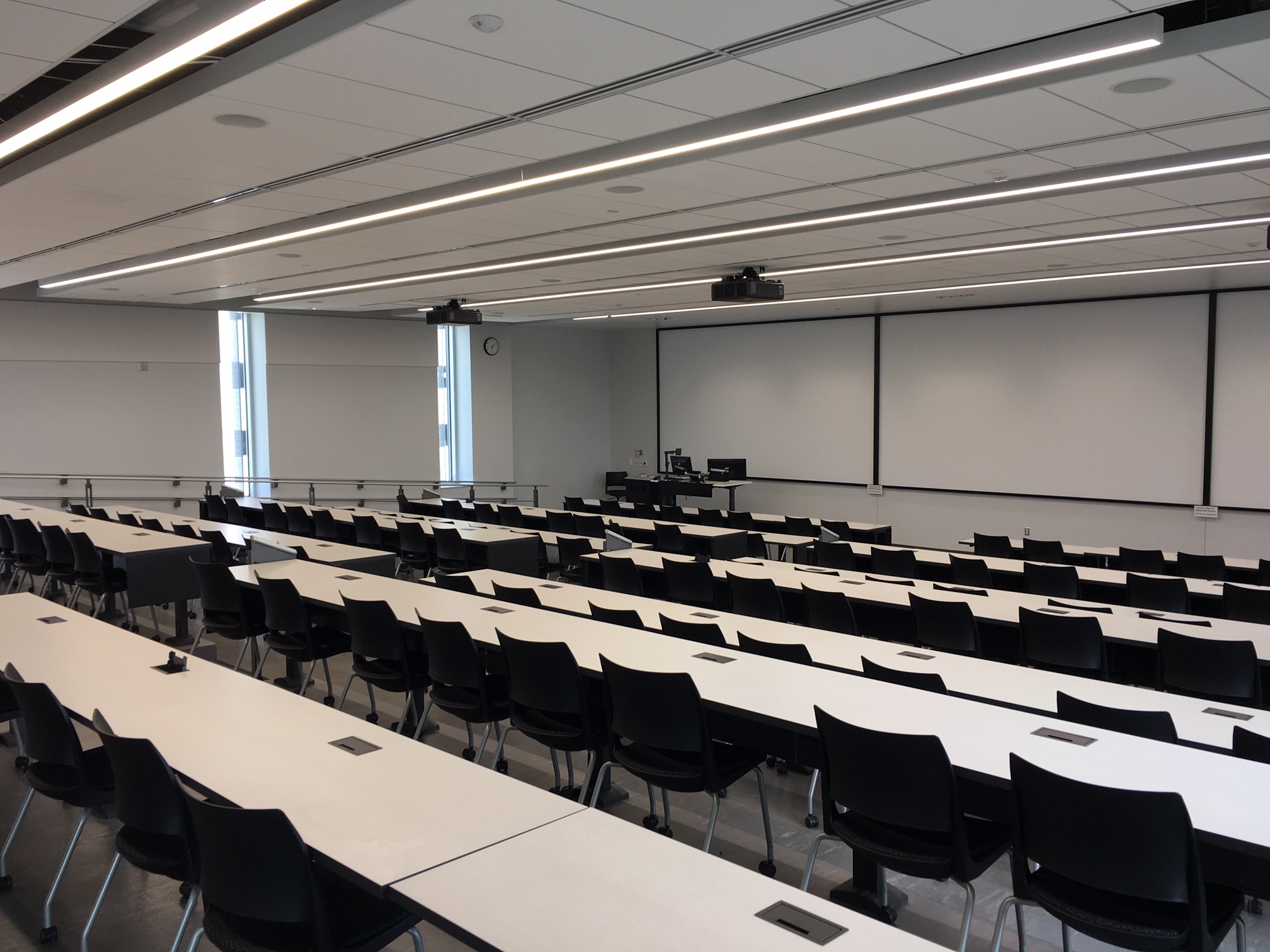 General Assignment Classrooms in the Seamans Center are 1505, 2133, 2217, 3026, 3315, 3321, 3505, 3630, 3655 and 4030.
The University of Iowa Office of the Registrar, Classroom Scheduling assigns and reserves all General Assignment Classrooms including those located in the Seamans Center. Requests for reservations can be made at 335-1243 or registrar-room-res@uiowa.edu.
For assistance with technology or other classroom issues, please contact the Classroom Hotline at 335-1976  or classroom-technology@uiowa.edu.
No food or drink allowed in classrooms.
You may request, in advance, additional audio visual equipment for use in these classrooms at 335-1243 or registrar-room-res@uiowa.edu.
Visit The Office of the Registrar, Classroom Scheduling web site for additional information regarding these rooms.
Conference/Seminar Rooms at the Seamans Center (Back to Top)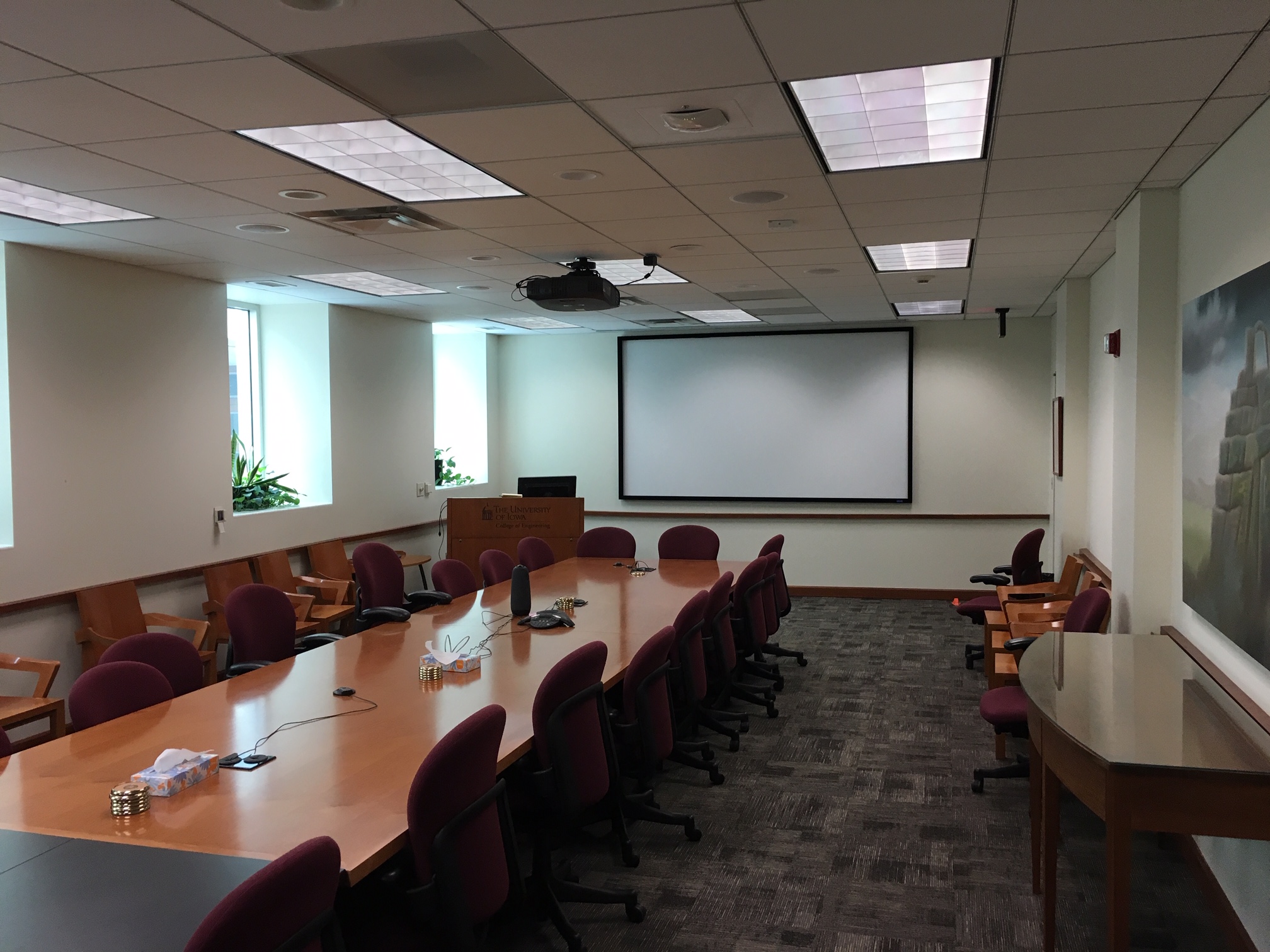 Seamans Center Conference/Seminar Rooms are for reservation on Outlook. The Facilities Manager, Department Administrative staff, and the Dean's Office are available to make reservations for these rooms on Outlook. This includes the following rooms/spaces: 1306, 2228, 2258, 3111, 3210, 3220, 3258, 3501, 3511, 4511, 4602, and 5602.
Please do not remove tables and/or chairs from a conference/seminar room without prior approval from the Facilities Manager.
(4517 is available on demand for Faculty and Staff at any time; no reservations are necessary.)
See link regarding "Seamans Center Conference/Seminar Room Reservation Policy" and the "#top">College of Engineering Conference and Seminar Room Reservations" spreadsheet for a detailed listing of equipment available for use by room.
After use of audio-visual equipment, please turn off or log out, and return to the condition and location you found it in.
Conference/Seminar rooms are not for the purpose of a regularly scheduled class.
In the event of a fire alarm, a message will sound throughout the building with instructions to proceed to the nearest stairwell and vacate the building. Do not use elevators during an emergency situation.
When the emergency has cleared, a message will be broadcast outside the facility for occupants to return.
For Any Medical Emergency, call 911
For a Police Emergency, contact Public Safety at 335-5022
(See Department of Public Safety Emergency Procedures site for specific procedures)
Please make an effort to turn off lights and equipment when not in use. Consider energy efficient models of equipment when you are purchasing items for your Department or Laboratory. Turn back the temperature of your office/lab thermostat when a space will not be in use for a considerable length of time.
Please make an effort to recycle office paper, newspaper, cardboard materials, and pop containers appropriately.
Fethke Rooftop Terrace (4210) (Back to Top)
The Fethke Rooftop Terrace is located in the center of the facility and accessible from the 4th floor. The space is open from April into November, weather permitting. The space is available for use anytime during good weather. (Please schedule the space in Microsoft Outlook.) Tables and chairs are provided along with waste receptacles, power, and data ports (maximum capacity of 100). Please remove trash and deposit in dockside dumpster after event, unless a blue req. has been sent in for custodial services.
The University of Iowa does not permit food and beverages in Classrooms. Food and beverages are also not permitted in Engineering Computer Labs. Follow guidelines of individual Departments regarding Laboratories.
Covered beverages are permitted in the Seamans Center Student Commons area located outside the Lichtenberger Engineering Library and the 2nd Floor Lobby Entry Area.
Covered beverages are permitted in Seamans Center Conference/Seminar Rooms. Food may be permitted at events with pre-arrangement and approval by the Facilities Manager. Users must clean up promptly after every event by removing garbage from the room(s) and disposing of it in the dumpster located at the Seamans Center dock area. New trash liners can be found in the bottom of the waste containers.
Tables, chairs, and surfaces must be cleaned off and the room(s) returned to their original layout.
Empty pop cans and pop bottles can be disposed of in noted containers found throughout the facility. Make your effort to recycle and keep pests out of the facility. 
Please report any spill to Facilities Management Self Service immediately.
Francis Business Visitors Center (Back to Top)
The Francis Business Visitors Center, located in 3307 Seamans Center, offers two hospitable, functional private offices that serves business and academic leaders who visit the college for meetings, classroom teaching, and seminars with students, faculty, and administrative staff. The two offices in the Center accommodate privacy, amenities, and resources--simulating an "office away from their office" -- so visitors feel welcome and inclined to become even more engaged to the college.
The facility also enables visitors to effectively conduct their own business while not involved in collegiate meetings, classes, and seminars. In addition, the Center provides convenient, professional stand-by facilities near the Student Development Center to accommodate overflow interview room scenarios during peak career recruiting periods. Corporate, organization, and academic guests conducting business with the College (from a few hours to a week or more) receive priority attention on a first-reserved, first-committed basis.
The offices are equipped with high-speed Internet connections, and basic office supplies.
Hanging Art, Awards, etc., on Walls (Back to Top)
Contact the Facilities Manager regarding any requests to hang art, awards, etc., on walls. We require the proper hardware and installation procedures.
Lost and Found is located in the Student Development Center, 3612 SC. Individuals may also check the University Lost and Found at the Iowa Memorial Union Parking Ramp Office.
Plants (Back to Top)
The Seamans Center has plants located in public areas that are maintained by the College.
Individual plants are the responsibility of the plant owner. Take special care when bringing plants into the facility, especially maintaining them and keeping them bug-free.
Any potential new projects in the Seamans Center are to be coordinated with the Facilities Manager.
Property Management/Surplus (Back to Top)
Any disposal of University equipment first requires completion of a "Property Management Surplus Removal Request Form". The form can be obtained from the Property Management web site. The Facilities Manager will coordinate the removal of the equipment with Surplus and the requestor. The process is in place to keep the College of Engineering Property Inventory Listing with Property Management current and accurate.
New equipment Property Management ID Tags are received by the Facilities Manager from the Property Management Office. The Facilities Manager is responsible for coordinating the equipment tagging and submittal of the signed "Tag Sheet" back to the PMO.
All classrooms, offices, labs, and seminar rooms are supplied with waste/trash containers.
Users may request a separate container to be used for Recycle Materials.
Users must take their Recyclable Materials to any of the following facility recycling centers and/or other designated blue recycle bin locations throughout the building:
1329 SC
2329SC 
2400 SC
3329 SC
4329 SC
Recycle totes may be rolled to office to empty recycle, but please return to designated area for other occupants to utilize.
Recyclable Materials
Office paper (loose-leaf or stapled only)
Newspaper
Magazines
Corrugated cardboard (broken flat and stacked)
Chipboard (broken flat and stacked)
Pop Cans and Plastic Pop Bottles (empty and rinsed).
Utilize these recycle containers or remove your cans and bottles from the facility on a regular basis.
Packing Materials
Packing Materials disposal containers are located in the recycling centers.
Shredded Paper
Special Requests
Please contact the Facilities Manager for larger trash, shred, or recycling removal requests.
Salespersons or agents are prohibited from soliciting employees or students in any building or part of University property.
The College of Engineering Student Development Center, located at 3612 Seamans Center, provides tours conducted by the Engineering Student Ambassador Organization. Contact the SDC at 335-5763.
Vending machines are located on the first floor next to 1505, Stanley Auditorium.